North Texas Traditional Living - Recipes
These recipes are cataloged with the most recent first. Click on the images to access the pdf file.
Pemmican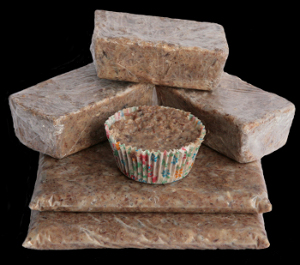 Finally! Pemmican demystified. Lex Rooker, who follows a raw, Paleolithic diet, has produced a very thorough instruction manual on the art of making this ancient, traditional food; very careful to only add heat when and where it is necessary. This manual covers it all from the history of this Native American food to nutritional content and more. Thank you, Lex!
Beef Jerky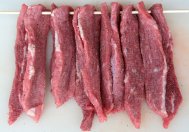 Beef jerky makes an excellent snack food. Often, people think that they must possess an expensive dehydrator to make this fine, traditional dried food. Lex Rooker takes you step by step through the construction of a low cost do it yourself dehydrator. He also provides a very tasty, basic recipe for beef jerky. Of course, if you have a dehydrator, feel free to use that to dry the meat.
Rack of Lamb with Herbed Dijon Mustard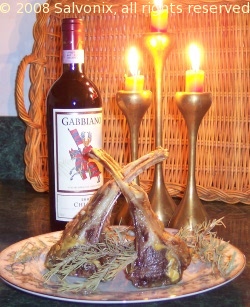 Oh yum! This delectable dish is normally pretty expensive. But when you buy the whole lamb, it's a very economical treat. This lamb comes from Prairie Oasis Farm and it was tender, flavorful and juicy. Cook to medium rare at most for best results. If you don't know how to "French" the rack, go to youtube and search it. There are a few demonstrations that will help you. And with the extra bits of meat that are stripped away, place in a food processor with a clove of garlic and 2 scallions and mince. Add mayo, Dijon mustard and a spoonful of sauerkraut, and you have a delicious carpaccio lunch!
Carpaccio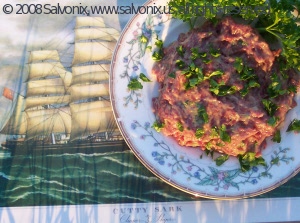 This is the classic Italian style raw beef dish, shown left with a sprig and finely-minced, freshly-plucked parsley from the autum garden. Actually, I minced this beef in a food processore, so it is very thin and delicate.
Legend has it that carpaccio was invented at Harry's Bar in Venice in 1950, where it was first served to Countess Amalia Nani Mocenigo after she informed the establishment's owner that her doctor had recommended she eat only raw meat. It consisted of thin slices of raw beef tenderloin in a mustard sauce. This recipe is great for the beginner to raw animal foods and is popular in finer restaurants as well.
Ceviche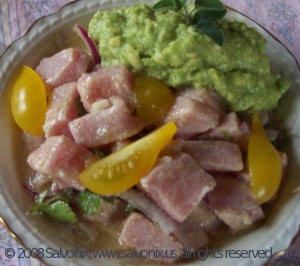 Ceviche is a citrus marinated seafood salad, popular in many Latin American countries. Apparently, it originated in Peru. It may contain shrimp, tuna, red snapper, scallops or other seafoods, solo or in combination. Depending on the density of the fish used, marinating time may vary from a few minutes to a few hours. Other ingredients may include garlic, onion, cilantro, cumin, tomatoes and more. Do try this easy, cool dish on a hot summer's day.
Corned Beef Heart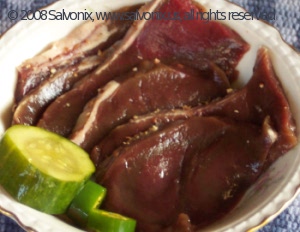 Corned beef is an old time favorite. Preserving the brisket in a brine for a couple of days tenderizes it and gives it a distinctive flavor. In more recent times, it is served either raw or cooked. This recipe makes use of the heart muscle instead, as organ foods were sought after by native Paleolithic peoples. They contain nutrients often lacking in skeletal muscle meat cuts. In particular, heart is rich in coenzyme Q10, which all cells must have to produce energy. It is an organ meat that has a similar texture to muscle meats and a mild flavor.
Salsa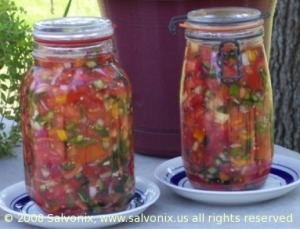 Lacto-fermented Salsa instructions are so easy. This html page shows you step by step, along with photos, how to wow friends and family with a traditional treat that contains probiotics.
Cultured Veggies
Shred, salt and pound. Wait a week or so and enjoy. Yum!
Karen's Winning Tempeh Stir Fry!
Our very own Karen took home a $25 gift card for this fabulous stir fry recipe found on the whole foods website. Way to go, Karen!
Everyone loves Southern food. Find out the healthy versions of many classics, and try your hand at at ethnnic foods that local Texans make with flare. More coming soon.